Tour Stock Putters is now offering Bobby Grace Putters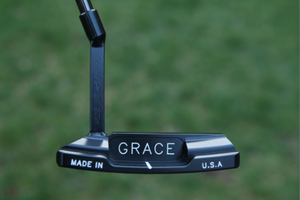 We are pleased to announce that Tour Stock Putters and The Peoples Clubs will now be carrying Bobby Grace Putters. 
Bobby Grace is well known in the golf community.   His putters have earned 13 major championships and over 200 PGA Tour Wins.  His putters have won on every tour out there.  He himself has fit over 800 PGA Players.  Including Nick Price (PGA Championship), Vijay Singh- (He won 10 million in prize money during one season alone which included 7 PGA wins) Fred Funk (Who won the TPC Championship with a 5 foot putt on 18 with Bobby's putter) Bart Bryant  (who won Muirfield and Tour Championship), Shingo Katayama (Japan open win and several others)
 The secret to Bobby's putters is the radial face, which causes the ball to roll immediately off the face and not hop like most putters.  In fact, Quintic software shows that Bobby's putters have the highest RPM and earliest ball roll of any putter they have ever tested.  We truly believe in the performance of these putters, in fact so much that we offer our signature Satisfaction Guarantee on them.
Bobby Grace Hand Made Putters are made entirely in the USA, he is now located in Highlands, NC. AKA God's Country.  We are conveniently located about 30 minutes away and can get any putter custom built to your specs.  Please shoot us an email to discuss your next Bobby Grace putter.
To check out our Bobby Grace Putters go here.
Leave a comment
Comments will be approved before showing up.